The Birthplace of Batik
Gabriella Cortese is quick to describe Bali as "a place where you can findeverything – and have just about anything made." The designer shares a special bond with the island: it is, after all, where the Antik Batik journey began, when she discovered the art of Batik, a printing technique handed down through generations. In Batik, patterns are sculpted into copper stamps, then dipped in wax to be applied to the fabric, which is immersed in a dye bath. Once the cloth is dyed, the wax is removed to expose the pattern – kind of like a reversed stencil. The island also specialises in the production of rayon, a lightweight fabric made from natural fibres extracted from birch trees. "I also have a lot of leather accessories manufactured in Bali. Snake skin, in particular, is imported from the Island of Java, then treated by Balinese artisans until soft and supple. They were quite surprised when I asked them to dye the skins turquoise, apple green or fuchsia to make handbags and shoes. They'd never tried those kinds of colours. There were a few misses, but we ended up with very modern and elegant results."
Bali, where I lived for several years, is where the Antik Batik journey began, when I came upon Batik. Bali is a place where you can find everything, and have just about anything made.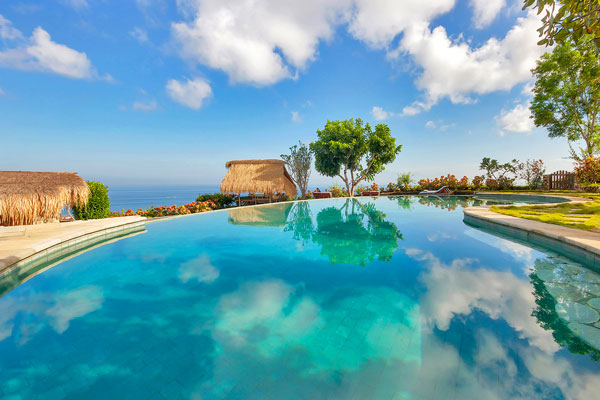 Our must-sees in Bali
Sandrine's Home
A dream house that you can actually rent out. It's located in Umalas, which is about a twenty-minute walk from the sea. Everybody here is just adorable, the swimming pool overlooking the rice fields is the perfect place to take in the sunset, and Joel Robuchon's delightful crepes are available to order. In Umalas, [email protected]
La Lucciola
For breakfast, head to this typically Balinese pagoda's second floor and feast on papayas, mangoes and pancakes while the soft breeze cools you down.
PetitengetTemple, Kerobokan, Kuta Utara, Seminyak, Bali 80361. Tel. +62 361 730838

Pablo's Art
New York transplant Pablo creates abstract paintings and sculptures that are like a travelogue from journeys through Nepal, Japan, Myanmar, and India.
To contact Pablo: [email protected]

Made's Warung
Local icon Made and husband Peter have created a second home for everyone in Bali, where thechicken satay and nasi goreng are second-to-none, the best arak madu (a rice- and honey-based liqueur) flows, and the occasional Tango night lights up the dancefloor. Made's Warung Kuta.
Banjar Pande Mas, Kuta, Bali 80361. Tel. +62 361 755297

Hotel Mu
Silence is king in this haven of respite, broken only by the gong that calls diners to a table featuring home baked bread. Everybody I send to stay my great friend (and inveterate surfer) Jerome falls under the spell of this celebration of Mother Nature, where the sun sets gently over the cliff.
www.mu-bali.com
Gili Trawagan
No cars to be found on this tiny, tranquil, island – a de facto spiritual retreat. Explore it by foot or donkey (kids will love it), and see a Bali from a time gone by. Consider it our little secret!
Free Shipping
On all orders over £200
Secure payment
Visa, Mastercard, Paypal
14 days
to change your mind