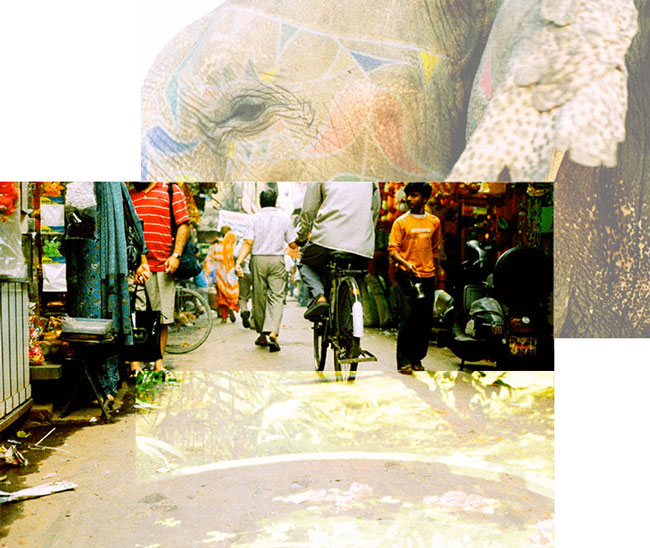 The Art of Bandhani
Standing like a bewildering mirage at the desert's gates, Jaipur, the capital of Rajasthan, is known for its pinks ramparts, its many arches and its bustling traffic. Here, Indian, African, and all manner of nomadic influences melt into each other: it is one of Gabriella's favourite places to thrift and take in the inspiration of bygone eras.
This is also where she sources her famous tie-dye, which follows a technique known as Bandhani. Inspired by the clothing of the maharajas and maharanis, this process is one of utmost meticulousness and precision: the fabric up is drawn up through a needle attached to the artisan's pinky finger, who then wraps the upper part with thread, then dips the assembly in a bit of colour. Tiny embossed dots then appear on the fabric, and, drawing from a number of folding techniques, she can create just about any pattern imaginable. Once the fabric is pulled out of its dye bath, an array of psychedelic waves is revealed. The more elaborate pieces can take up to several days of work.
I love sitting next to the looms and watching these marvels take shape. Here, we can try just about anything, everyone has the soul of an artist !
Our must-sees in Jaipur
Ayurvedic Massage
Center Stop in for a Kerala Ayurveda Kendra, an ayurvedic massage that opens up your chakras and harmonisesyour body's currents.
F-30 Jamnahal Bajaj Marg
Gem Palace
The Kasliwal family has been keeping the tradition of fine jewellery and precious stone cutting alive since the 16th century.
www.gempalacejaipur.com
Hot Pink
Rajasthan's first concept-store is the brainchild of Munnu Kasliwal and Marie-Hélène de Taillac. There, you will find the latest in Indian design, furniture, and fashion.
www.hotpinkindia.com
Anokhi
Take a break with Anokhi's organic salads, fresh juices and homemade pastries.
KK Square, Prithviraj Road, C-Scheme
Amanbagh Hotel
With its serene Mughal garden and its green marble swimming pool, this outstanding luxury hotel is perfect for a romantic getaway.
www.amanresorts.com
Rambagh Palace. Bhawani
The embodiment of Singh Road style, this sublime hotel features marble volutes and an impressive pool.
www.tajhotels.com
Free Shipping
On all orders over £200
Secure payment
Visa, Mastercard, Paypal
14 days
to change your mind